Swiss snows
Posted on: 13 Jul 2009
Text & photos: Veena Nambiar
Amusements in paradise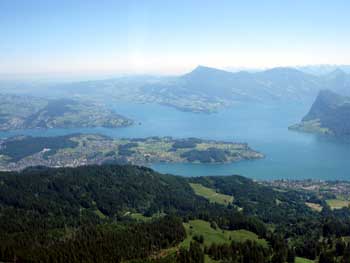 We were having a terrible winter till March. Our city went down till -27 degree Celsius once.
My husband and I started planning about visiting various places soon when the spring came around. One such dream destination was Switzerland.
We waited till we had 3 days and 3 nights to spend in Swiss.
As we are living in Germany with the residence permit we were not concerned about formalities like Visa. We bought Swiss Pass (which came home by post), booked hotels, booked air tickets and planned our trip after browsing several websites and going through many blogs and travelogues on Swiss trip in the internet and we planned to leave on 29th May 2009.
Our plan was to visit Lucerne and Mt. Pilatus, Interlaken and Jungfraujoch and Bern.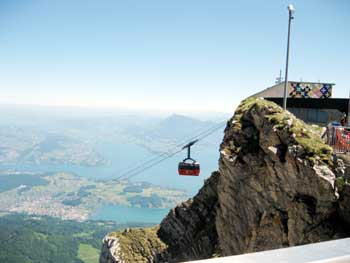 We arrived at Zurich at 10:30 pm. It was a flight which took less than one hour. The hotel we booked provides pick up and we soon reached the hotel.
The next day we woke up early morning, had a European buffet breakfast and started off to Lucerne. We travelled by Swiss train from Zurich Airport to Lucerne city. Our first destination was Mt.Pilatus. We did not have much luggage to carry; however as a precaution not to get tired quickly, we thought of leaving our bags in a locker in Lucerne railway station. The old man in the counter advised us not to spend 10CHF (10 Swiss Franks) for our small backpack bags. I was pretty impressed with his friendliness and took his words, for he knows the value of CHF more than us.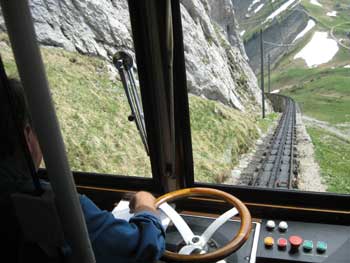 In some time we reached the Bus stop where we would get the bus route #1, which goes all the way to Kriens. It was a journey of around 30 minutes. We were seated at the back end of the very long bus amidst many kids shouting and laughing aloud. So we could not listen or see the details the bus gave about the next stop. We climbed out after sometime when we heard the bus announcement 'Pilatus Platz', since this confused us. However it was a mistake and we waited till the next Kriens bus came that way. This time we were ready to get down only at Kriens. After sometime a passenger who looked like a native asked me 'Mt Pilatus?' I replied, 'Yes', 'It is the next stop' he said. But we had decided to get out of the bus only when the bus itself announces and displays 'Kriens'. We got out at Kriens and found that to head to Mt. Pilatus we will have to walk a little backward where the bus had already stopped considering a lot of tourists. We both laughed at each other.
There is yet another slightly uphill walk for 5 minutes to reach the base station of the panoramic aerial gondolas which would take us to Mt Pilatus.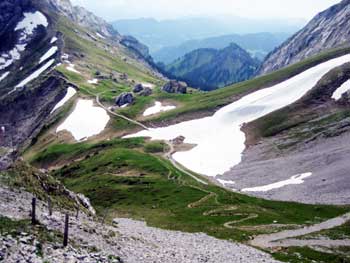 We bought the tickets to go to Mt. Pilatus which included the travel in panoramic aerial gondola, a cable car and downhill trip which had a Cogwheel train travel and finally a cruise ship which would take us back to Lucerne city. We also had another option which was just the reverse- to travel by the cruise ship, the cogwheel train, the cable car and the gondola. We had planned to take the first one. The tickets were sold at the base station of gondolas at Kriens.
The gondolas were automatic and it gave enough time till u got into it. Each gondola can carry four persons at a time. The one in which we travelled had only the two of us. The journey by the cableway was awesome and is memorable. We could see a lot of mountains, country side, blue rivers, and green forest. Being somebody from Kerala, green is not new to my eyes, but the aerial view of Lucerne is more than what I can explain .It is very beautiful.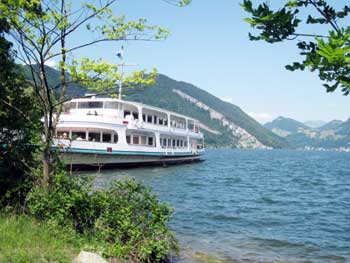 We enjoyed the beauty for 30 minutes in Gondola and reached a station called Fräkmüntegg where we had a transfer to a cable car. We had some time at that station enough to click a few pictures. We saw kids involved in summer adventures. They were walking on a rope and were getting ready to swing and reach another point through a rope they were holding. I was amazed seeing this and observed that they all were tied up to that rope by a belt. We met another Indian family from there and helped them click family photos and they did the same for us.
We got into the cable car soon to reach the top of Mt. Pilatus (2132m/7000ft). A cable car somewhat like Gondola except that they are bigger and around 20 people can travel at a time also; there was an operator in it. We kept seeing the blue rivers and mountains. We also saw a group of cows which made sounds from the bell that were tied on their neck.
Soon we reached at the top of Mt. Pilatus, and we never realized that we were going up to a height. The temperature was very low at the top but sunny at the same time. It was only 6 degrees and we had to put our jackets on.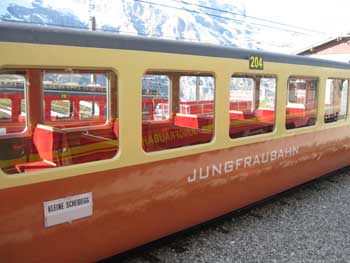 There were souvenir shops which sold cowbells, coffee mugs etcetera. There were also a couple of hotels/restaurants. Small paths were leading to the peaks which were made of wooden and stone stairs; it also had railings on both sides. It took us around one and a half hours to go to two of those peaks and come back.
There were ways that led inside the mountain called Dragon path which was 500 meters long, but we did not choose it for us. After this we had lunch from one of those Restaurants in the open air, sunny but cool!
We spent around 3 hours at the top of Mt.Pilatus and we decided to climb down.
We waited till the next cogwheel train came. The cogwheel train here was the steepest one in the world and it travels in the inclination up to 48 degrees and goes through 5 tunnels. The cogwheel train went till a point called 'Alpnachstad'. So that was about the journey to Mt.Pilatus and the down hill climb through the cogwheel train. Beautiful is the place so is the journey.
Next was our return to Lucerne city and this was by a cruise ship through Lucerne lake. Since we had the Swiss pass, boat trip was free. As soon as we got out of the cogwheel train, we ran towards the lake shore next to it where a cruise ship was about to leave. We rushed to get into it. For the first time I saw a crew member untying the ropes and the cruise was soon moving. We walked about inside the cruise and found some place to sit in its open air where many were seated. I was amazed because of the weather; it was sunny and at the same time cold. We relaxed for 1.5 hours from then onwards, chatting and clicking pictures.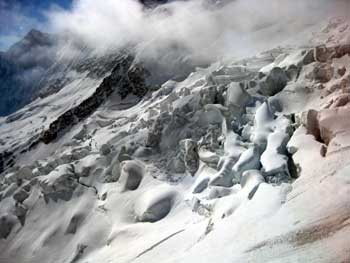 We got down at Lucerne city, bought 2 ice creams and walked around seeing Lucerne Lake, Swiss banks, watch show rooms and the famous Chapel bridge ('Kappelbrücke').
There is a water tower just next to the bridge which is 43m tall. I have seen this bridge and the tower in some Hindi movies. The bridge was made of wood and it had an outer railing of flowers on both sides which were beautiful. We later found out that this bridge was destroyed in fire in 1993 and what we saw was the renovated one including the paintings inside it. We had heard of the beautiful sight of the bridge at the night time, but we soon wanted to start for the hotel we booked for in Interlaken also; in this time of the year the sun sets only at around 10pm at night. So we hurried to Lucerne railway station to take the next train to Interlaken. Lucerne trip thus made this day once again special for us, again because it was our first wedding anniversary.
We reached Interlaken West at 10pm and the hotel we booked was somewhere close to the railway station. It was not that tough to locate it, since we had the map of the place and the address of the hotel. The next day morning we started off to Junfraujoch. We first had to reach Interlaken Ost(East). We could travel with Swiss pass till Lauterbrunnen for free. From there, the trip is charged but 50% is discounted for Swiss pass holders. The first train we got in from Lauterbrunnen was called 'Wengernalpbahn', this train goes very slowly and we travelled till 'Kleine Scheidegg'. From this station we had to transfer to another train called 'Jungfraubahn' which is also a cogwheel train and goes up to the highest railway station in Europe. 'Jungfraubahn' also goes very slowly and the journey is very enjoyable. The train stopped at station 'Eismeer' (which means sea of ice) at 3160m high for 5 minutes for its passengers to get a Panoramic view from there.(It had also stopped at another station Eigerwand where I did not get down) After the fairly long journey getting to Jungfrau we reached the underground train station.
We got out of the train station into the multi-level structure. This multi-level structure has different establishments at different floors there were restrooms, souvenir shops, restaurants (Indian, European, Chinese cafe (with a variety of soups, noodles, sandwiches, and other quick eat stuff)), exit to the Ice Palace, exit to a Plateau that leads to a great view of the long 14 mile long Aletsch Glacier, an exit to the Sphinx Tunnel (that leads to an elevator that rises more than 100 m to the Observation Deck).
The first thing we did, on reaching the place was to take a deep breath; it is not unknown to feel some discomfort because of the height. We had a cup of coffee and it was written somewhere to walk very slowly so we were pretty careful about walking around. Jungfraujoch is a place which will have ice all through the year; the temperature was -2 that day as per what was displayed at the entrance.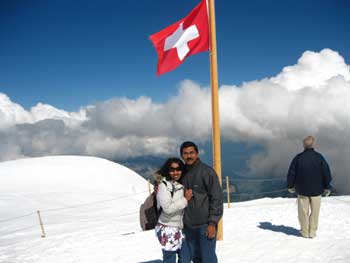 e headed to the Plateau, which is an open area and the sight was amazing. I kept telling that I could not believe my eyes. We photographed a lot of pictures. There was a Swiss flag atop there. We heard a lot of people talking in Hindi. It could be our movies which brought so many Indians to Switzerland. It was so hard for us to be there for long as we had not taken gloves. My hands were paining due to that low temperature. Still we managed to be there for around 20 minutes. We slowly returned to the building. It was full of ice on the path and was slippery. The moment I thought that I saw people falling as I entered this area I fell down and was on my knees. After getting back to the building we had some problem. I was feeling very drowsy and had to take deep breaths for some time.
After taking rest for some time we decided to enjoy another attraction of the place, the 'Ice Palace'. This is a cross-work of tunnels built inside the slower moving portion of the glacier, and has figurines inside made in the shape of animals and birds. We had a feeling of being surrounded on all sides by ice; in fact, sometimes you need to hang on since the floor can be a bit slippery (it was walking on ice with a tinge of water).
As we climbed up and down the stairs forgetting the precaution to be very slow; many times I almost fainted especially while climbing up. After this we had lunch from an Indian Restaurant 'Bollywood'
Later we went to a balcony / corridor sort of structure which provides a great view of the Aletsch Glacier. It was a great view from there, and we spent some time just admiring the view.
We proceeded to the next destination, the Observation Tower. This is a platform built higher up on the mountain, and is reachable from the main Jungfrau complex through a tunnel called the Sphinx tunnel and then a lift that climbs 100 meters above. It remains crowded, but the platform offers a great view (3571m). It is a metal platform, supported on the mountain slope. We could even see a part of the mountain below through the metal grid which made the platform. As we walked to the edge of the platform, we found nothing supporting the metal platform grid under our legs. It was supposed to be a great view but as it was slightly snowing we could see only white all around. There were also some black birds perched on the railing.
We bought the symbolic cowbells from a souvenir shop, a coffee mug which had the design of Swiss flag and was ready to return from the Jungfraujoch.
This time we chose another route and the trip was very nice. We were a little tired but still the weather and the scenic beauty made us feel good. We got down at a stop called Grindelwald walked about there for around 15 minutes eating lollipop.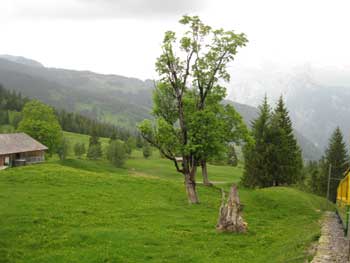 We got into another train that took us to Interlaken east. 'Thun' lake was near and amazingly all rivers and lakes in Switzerland have a peculiar colour; sometimes blue and otherwise a bluish green. We walked in the direction towards Interlaken west where our hotel was. On the way there was a Casino and its beautiful Garden that came in some Tamil movies. It took us around 20 minutes to reach Interlaken west. We had a nice dinner from an Indian restaurant. We still roamed about for sometime and went back to the hotel.
Next day morning, we left for Bern, the capital city of Switzerland. After having seen beautiful locations like Lucerne and Interlaken; we were not so pleased by Bern. This city had the Parliament, Einstein house and an Astronomical clock. There was an Einstein's Museum but it was closed since Monday is a holiday internationally for all museums. The Einstein house was in the same street as the Astronomical clock, and we visited both. Einstein house is where Einstein had lived and worked on his 'theory of relativity'. It had some things of a house, a small exhibition gallery and a hall which played a video of a summary of his life.
We had lunch from Bern and went to Zurich where we are to take the 7 O'clock flight.
After reaching Zurich we did not have much time to roam about. We just had a walk through some shopping streets. It would have taken us 10 minutes to the airport in train but as we wanted to see more of the place and had enough time we took a tram and reached the airport after 30 minutes. With so much of joy and a mind full of memories we said good bye to Swiss.